You can get a SUMMER FIT body from home with our killer Spin®, TRX® & Total Body Workouts! Check out all of our class previews below, or see all class previews and class descriptions >>
Spin Core Classes
StraightUp Spin Classes
Spin and Sculpt Classes
TRX Spinning Classes
TRX Sculpt Classes
TRX Cardio Classes
30 Minute TRX Classes
Ab & Core Classes
30 Minute Spin Classes
Spin Pilates Classes
Mind & Body Classes
What Our SWEATers Say
"One of really cool differences between you and your competitors is that you make the at home people feel like they're actually in the studio, and it feels like a REAL indoor cycling studio (not staged like some others)- so motivating and challenging. Love you guys."
~Lisa from Massachusetts, USA*
* Results may vary
Ways to start SWEATing Today
There are several different ways to SWEAT. But with all of our Spinning® classes, you can use ANY indoor cycling bike!
Don't Have a Bike?
We've got you covered with our Starter Packs! Get everything you need to start spinning® from home.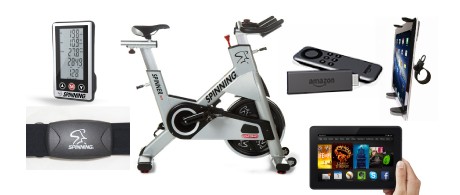 Pick the package that works best for you,
FREE SHIPPING INCLUDED (continental U.S. only)!
Our Starter Packs start as low as $488!